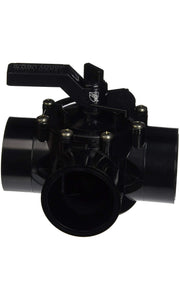 Jandy 1.5 inch Neverlube Valve Slip / Slip
Jandy Pro Series valves with NeverLube technology have been the industry's best selling valve for over 20 years.
Perfect for use with Solar Heating systems!
The NeverLube valve is totally maintenance-free and built from the toughest CPVC material that can withstand extreme chemical and temperature fluctuations without ever leaking, cracking, or breaking. Available in 1.5" or 2" diameter sizes for easy use in conjunction with the Jandy Valve Actuator for automatic operation.
Our commitment to quality and innovation makes for easier, problem-free installations. Jandy Pro Series valves share one thing in common - dependability! Dependability begins with top-of-the-line materials and rigorous quality control standards. We offer the widest variety of valves for a multitude of pool and spa applications. Superior quality and plumbing versatility make Jandy Pro Series valves the #1 choice of pool and spa professionals everywhere!
Features
Included placards label the valve position.
Never requires lubrication.
Adjustable stop feature allows for flow adjustment.
Both valves can handle flow rates up to 170 GPM with minimal head loss, making them great for spas and water features that require high flow rates.
Designed for easy automation
Made from durable CPVC
Proprietary NeverLube technology with Lifetime Guarantee