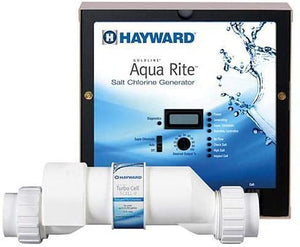 Hayward Aqua Rite XL Salt Generator & 40,000 Gal Cell
No more mixing, measuring and messing around with liquid or tablet chlorine. Aqua Rite automatically turns common salt into a self-regenerating supply of pure chlorine. For pool and spa water that's clean, clear and luxuriously soft.
The key to Aqua Rite's chlorine generation is the Turbo Cell®, a specially-designed converter connected to the control unit by a simple plug-in cord, and plumbed into the filter pump's return line to the pool. As water is pushed through the Turbo Cell, an extremely safe low-voltage electrical charge turns the salt previously added to the water into fresh, sanitizing chlorine which is then dispersed evenly throughout the pool via the return jets.
Features:
Adjustable chlorine output from 1-100%
Enables proper sanitization of pools & spas
Always crystal clear and ready for swimming
Microprocessor automates all functions
Digital salt display and 8 diagnostic indicators
Super chlorinate function
Quick, weatherproof connections inside control door
Locking weatherproof enclosure
CUL Listed, NSF certified
120v, Plug In Unit with Cord
T-Cell-15 for up to 40,000 Gallons Included
3 Year Limited Manufacture Warranty