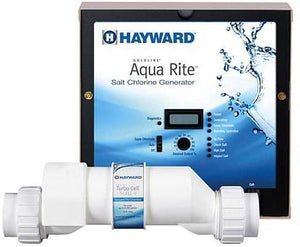 Hayward Aqua Rite XL Salt Generator & 25,000 Gal Cell
No more mixing, measuring and messing around with liquid or tablet chlorine. Aqua Rite automatically turns common salt into a self-regenerating supply of pure chlorine. For pool and spa water that's clean, clear and luxuriously soft.
The key to Aqua Rite's chlorine generation is the Turbo Cell®, a specially-designed converter connected to the control unit by a simple plug-in cord, and plumbed into the filter pump's return line to the pool. As water is pushed through the Turbo Cell, an extremely safe low-voltage electrical charge turns the salt previously added to the water into fresh, sanitizing chlorine which is then dispersed evenly throughout the pool via the return jets.
Features:
Adjustable chlorine output from 1-100%
Enables proper sanitization of pools & spas
Always crystal clear and ready for swimming
Microprocessor automates all functions
Digital salt display and 8 diagnostic indicators
Super chlorinate function
Quick, weatherproof connections inside control door
Locking weatherproof enclosure
CUL Listed, NSF certified
120v, Plug In Unit with Cord
T-Cell-9 for up to 25,000 Gallons Included
3 Year Limited Manufacture Warranty

The Standards Council of Canada (SCC) has granted UL - Canadian Certification Organization (CO) and Testing Organization (TO) status, which accredits UL to conduct tests and issue certifications to Canadian National Standards.
This Product is PMRA APPROVED - The Health Canada Pest Management Regulatory Agency (PMRA) is responsible for pesticide regulation in Canada. Created in 1995, this branch of Health Canada consolidates the resources and responsibilities for pest management regulation.