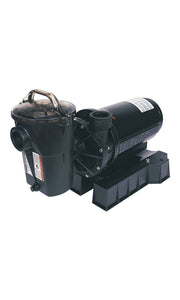 Hayward 1 HP Ultra Pro Pump
Hayward SP2290 ULTRA-PRO LX Above-Ground Swimming Pool PUMP, 1 HP
When your pool is functioning properly, it can be one of the most relaxing and enjoyable elements of your home. But, when your pool isn't functioning, it can be extremely frustrating. If you're in the market for a new pump for your above ground pool, you know how disappointing it can be when your pump stops functioning, and disrupts your ability to enjoy your pool.
When it comes time to select a new pump for your aboveground pool, it is important that you find a pump that can provide you with reliable and efficient water flow for your pool, so you can enjoy more fun and worry-free days of swimming this summer.
Why choose the Ultra Pro LX Aboveground Pool Pump?
Many aboveground pool pumps are low-quality, providing inferior pumping and expensive operating costs. With the Ultra Pro series, Hayward offers aboveground pool pumps that are efficient, easy to use, and long-lasting.
Pool owners love how easy it is to access and clean out the strainer basket on their Ultra Pro (and the fact that the basket is much larger, and needs to be cleaned out less frequently). One of the best features of the Ultra Pro is how easy it is to forget once it is in place. With near-silent operation, you'll be able to have your pump running without worrying about interrupting your backyard relaxing.
The Ultra Pro pump has been designed to be serviceable - a feature that ensures you'll be able to rely on your pump for many years. The small parts of your pump that wear out over time are easy to access and switch out, saving you on a costly pump replacement. The heavy duty design and manufacture of the Ultra Pro pump also prevents corrosion, allowing your pump to last longer without compromising on performance.
Efficient Pumping for Aboveground Pools
If you're looking for a replacement pump for your aboveground pool, or choosing a pump for the first time, it is important to find a pump that is tough enough to handle the job. With the Ultra Pro pump, you'll be able to rely on your pump for efficient, long-lasting performance, so you can spend more time enjoying the pool this summer.
Features
Exclusive swing-aside hand knobs make strainer cover removal easy
Lexan see-thru strainer cover lets you see when basket needs cleaning
Strainer basket is 50% larger and incorporates an integral non-corrosive handle. Load extender ribbing ensures free flowing operation
All components molded of corrosion proof PermaGlass XL for extra durability and long life
Heavy-duty, high performance motor for quieter, cooler operation
Service-ease design gives simple access to all internal parts