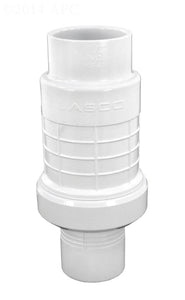 CUF-015 1.5" ULTRA-FIX COUPLING ASSY
UltraFix™ repair couplings are compact in design to fit into small places. Now you can repair a broken pipe or install a valve without replacing a large section of pipe. The dual EPDM O-Rings assure a leak free installation. Because the o-ring seals in the full travel of the piston, the UltraFix™ can also be used as an Expansion Joint.
Installation Instructions
Step 1: Solvent weld a coupling to the spigot end of the Ultra Fix.
Step 2: Compress the Ultra Fix and use it to mark the section of damaged pipe to remove.
Step 3: Cut the pipe squarely, clean it, de-burr it and bevel it.
Step 4: Solvent weld the coupling end of the Ultra Fix to the pipe. Allow to set for 5 minutes (longer if below 60°F).
Step 5: Solvent weld the socket end of the Ultra Fix to the pipe.
Step 6: Allow Joints to cure before pressure testing.